National Black HIV/AIDS Awareness Day (NBHAAD) is observed annually on February 7 to increase awareness, spark conversations, and highlight the work being done to reduce HIV in Black or African American communities in the United States and show support for people living with HIV in these communities.
According to the CDC, Black/African American people account for a higher proportion of new HIV diagnoses and people living with HIV, compared to other races and ethnicities. In 2018, Black/African American people accounted for 13% of the US population but 42% (16,002) of the 37,968 new HIV diagnoses in the United States and dependent areas.
Among Black/African American people, most of the new HIV diagnoses in 2018 were among men with 79% of male identifying people engaging in male-to-male sexual contact.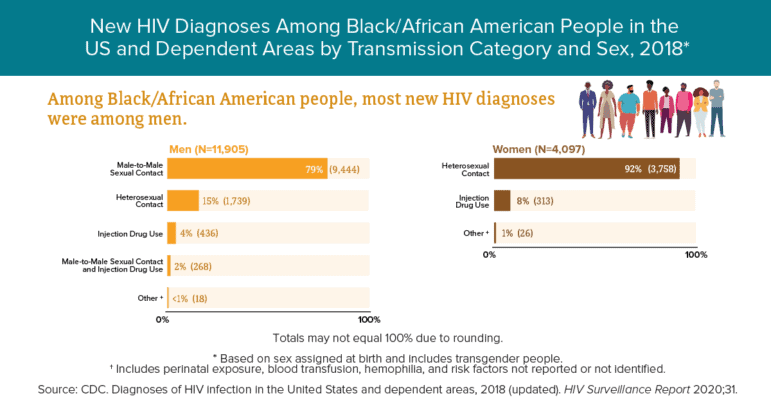 This means that the Black MSM (men who have sex with men) population is at a significantly higher risk of contracting HIV than the rest of the population.
Black trans women are also at an elevated risk level with nearly 44% of black transgender women living with HIV as of 2019.
Many factors contribute to this higher risk level in the Black LGBTQIA+ community including, lack of access to affordable healthcare, lack of sexual health education, and stigma associated with HIV/AIDS.
At Resource Center's Nelson-Tebedo location, we aim to eliminate these barriers by offering FREE HIV and Syphilis testing, access to affordable HIV prevention tools, including PrEP (pre-exposure prophylaxis) and condoms, and by educating clients on the potential risks associated with sex, regardless of insurance coverage.
To schedule your FREE HIV test at Nelson-Tebedo please call 214-393-3700. Due to Covid-19, clients must make an appointment; walk-ins will not be accepted.
*Nelson-Tebedo is also currently offering "take-home" HIV test kits as a contactless way to get tested.