December 28, 2020 by Lauren Slade | Grants and Foundations Manager
For many, the holidays represent family, love, and togetherness. However countless members of the LGBTQIA+ community have families who don't affirm their identities or accept their authentic selves. This was the case for teenaged "Aaron", whose father kicked him out of their home after a confrontation about LGBTQIA+ rights and politics. This is all too common for LGBTQIA+ youth. Without the support of his family, Aaron knew the first thing he needed to do was ask for help. Aaron asked around about who would be able to help him, and a friend referred him to Resource Center.
Upon coming to the Nelson-Tebedo testing facility, Aaron received a free HIV test and relayed his story to James, one of the Center's Registered Nurses. First, James referred Aaron to LGBTQIA+- friendly transitional housing. After making sure Aaron was in a safe living situation, James introduced him to Center community programs Youth First and FUSE. As an 18-year-old, Aaron was qualified to receive Youth First's life-saving services for LGBTQIA+ youth ages 12-18, such as support groups, referrals to Behavioral Health counseling, and an affirming, safe space with allies and resources. Upon aging out of Youth First, Aaron would be eligible to join FUSE, one of the Center's HIV Prevention Programs for same-gender-loving men ages 18 to 35, where he would have access to peer support networks and a stigma-free environment where members empower one another to prevent the spread of HIV.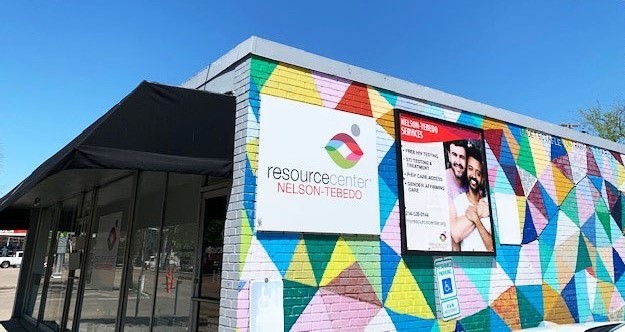 The holidays are hard enough for so many LGBTQIA+ individuals who don't have support systems. Throw in a pandemic, and the stress placed on those going through difficult times gets even harder to deal with.
Thankfully, the Center was able to play a part in getting Aaron to a safe environment, as well as provide him with free medical services. Says James: "Clients tell me all the time how fortunate they feel to have come to Resource Center where they can receive any and all of the resources made available to them and the LGBTQIA+ AND HIV/AIDS communities."
Resource Center couldn't deliver these lifesaving services without your support. Please consider making a donation so that we may continue to help LGBTQIA+ and HIV/AIDS communities in need.
Thanks to a generous anonymous donor, all donations will be matched up to $5,000!